Designed by Skiers, for Skiers, FOREMAN's line of waterproof ski lockers are the only ski lockers in the industry made from heavy duty waterproof Phenolic panels. FOREMAN Phenolic ski lockers are suitable for indoor or outdoor installations.
FOREMAN Signature Ski Lockers have been engineered using Aircraft Grade Aluminum profiles, Phenolic Panels and Stainless fasteners to create an incredibly strong, weatherproof structure.
Features:
Heavy duty Integrated Aluminum Hinge System
Standard Sizes Available 12",15",18" and 20"
Hundreds of Laminate colors and patterns available
Customizable Interior Accessories
FOREMAN Traditional Solid Phenolic Ski lockers are built using Solid Phenolic panels with stainless steel fasteners. They ship assembled for quick installation. Standard Sizes are available.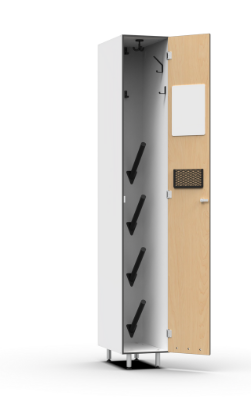 Signature and Traditional Solid Locker Models Features:
Standard:
Racks for Gloves, Boots, and Skis, 2 and 4 pair available
Aluminum Hooks to accommodate Poles and Goggles
Shelves for Helmets and Personal items
Optional:
Hundreds of Locking options available including Smart Locker Technology
Integrated Electric Gear Driers
Personal Electronics Charging Ports